At an information briefing today, Víðir Reynisson, Director of the Civil Protection Department and Kristín Jónsdóttir, Natural Hazards Co-ordinator of the Icelandic Met Office and geophysicist Freysteinn Sæmundsson discussed the likely scenario of an eruption at the Reykjanes peninsula following a week-long earthquake swarm. The eruption has not yet started but scientists believe magma is nearing the surface. If an eruption occurs, it likely won't threaten inhabited areas and ashfall will likely be minimal or non-existent.
The following is a lightly-edited transcription of Iceland Review's live-tweeting of the briefing.
Stay tuned for a live-tweeting of Icelandic authorities' briefing (beginning shortly) regarding volcanic activity on the Reykjanes peninsula, Southwest Iceland. A tremor pulse has been detected in the area, indicating that an eruption could be imminent.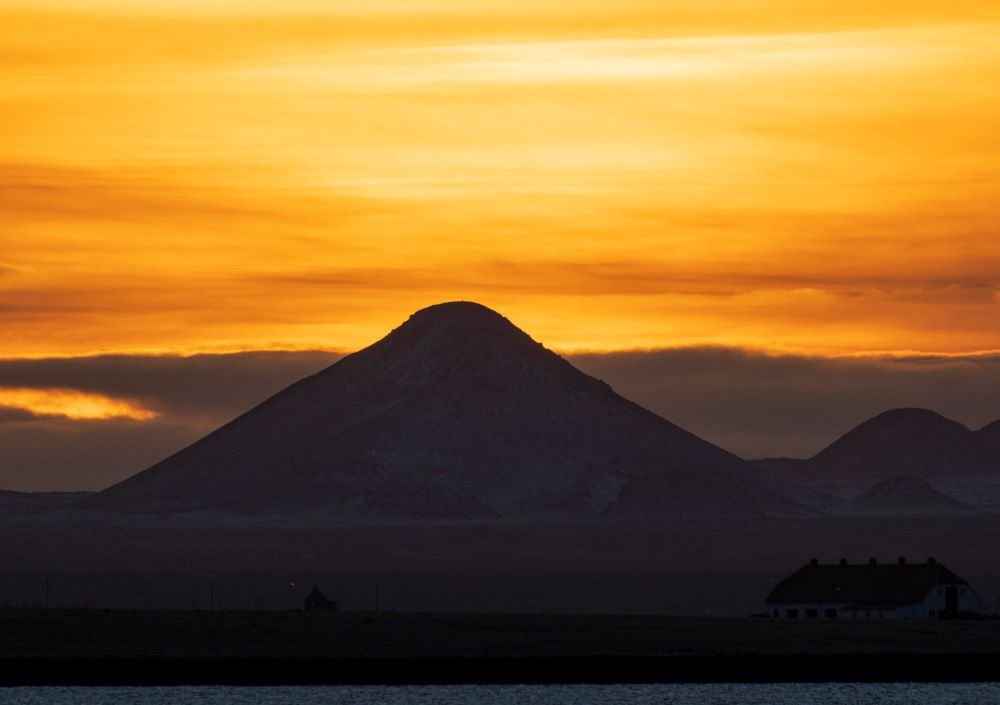 Scientists have stated that if an eruption did occur in the area, it would not affect inhabited areas. To be clear: it has not been confirmed that an eruption has started on the Reykjanes peninsula but activity suggests that it might be imminent within the next few hours.
Víðir Reynisson, Director of the Civil Protection Department and Kristín Jónsdóttir, Natural Hazards Co-ordinator of the Icelandic Met Office have arrived. The briefing has begun. Kristín goes over the current status on the Reykjanes peninsula. Around 2.20 pm this afternoon, a series of small earthquakes that happen very close together and increase in strength (tremor pulse) occurred.
Experts flew over the area by helicopter to see if something was visible at the surface. Nothing could be seen from above, however. The seismic unrest is occurring along a line that stretches from Keilir mountain to Litli Hrútur. There is graben visible in the area (downward displacement of land) but no cracks visible on the surface. Perhaps more strain has occurred, the data needs to be analysed further.
At the beginning of the week, we saw indications that magma was pushing towards the surface. The tremor pulse indicates that the magma is reaching the surface but it's yet unknown if it will break through or where. This is all according to the analytical models presented earlier this week.
Víðir urges the public to refrain from driving to the area. There's nothing to see at the moment and conditions are unfavourable. Furthermore, experts in the area need to work in peace.
When asked about the timeframe of a possible eruption, scientists state that they aren't sure. It could be hours, it could be days. In terms of gas that could result from an eruption, our projections will take into account wind direction and weather models to determine whether it will pose risk to inhabited areas.
While the activity continues, it is likely that the earthquakes will continue as well. Earthquakes as strong as M6 or M6.5 are possible in the area – we're looking at the same scenarios as before, Kristín states. This is a complicated area due to the tectonic rift. In the case of a "normal" volcano, quakes might die down once the eruption starts, but this area might behave differently. A graben has formed in the area (downward depression of land) where the earthquakes are most frequent but no cracks have formed in the surface. The Met Office's working theory is that cracks are forming, however.
A likely timeframe for how long the eruption will last is hard to pinpoint but a duration of 1 or 2 weeks is likely. Víðir states that the area won't be closed off as that would be hard for authorities to monitor but they ask the public to stay away.
Is this the beginning of a more active period of volcanic activity in the area – in other words, is this the new normal? Víðir says it's always a possibility but we'll have to wait and see.
An orange state of alert has been declared for air traffic. It will be raised to red if an eruption begins. This state of alert mostly concerns pilots. Air traffic likely won't be halted for long, once an eruption starts, air traffic is halted until the Met Office issues its ashfall projections. This might take around 40 minutes. Kristín says that she thinks it will most likely only be for a very short time. Based on projections, the state would be lowered back to orange shortly after the eruption began.
Could the magma that's approaching the surface find a different outlet? Magma finds the easiest passage.
How should we discuss this situation with children? Speaking to them is important, says Víðir. When discussing volcanic eruptions, be informative but calm.
The eruption would probably consist of lava flow and little explosive activity, so it is not likely to affect international flights. If the public needs to be alerted, for instance of toxic gases, will authorities use text messages? Yes, text messages will be used, we can send tens of thousands at once.