According to new data published by Eurostat last week, the median age of the European Union population was 44.4 years old as of January 1, 2022. The median age in Iceland, 36.7, is far lower—lower in fact, than in any country in the EU.
Iceland is not a member of the EU, but it is part of the European Free Trade Association (EFTA), along with Lichtenstein, Norway, and Switzerland. Eurostat measures the median age in EFTA countries alongside that of countries in the EU.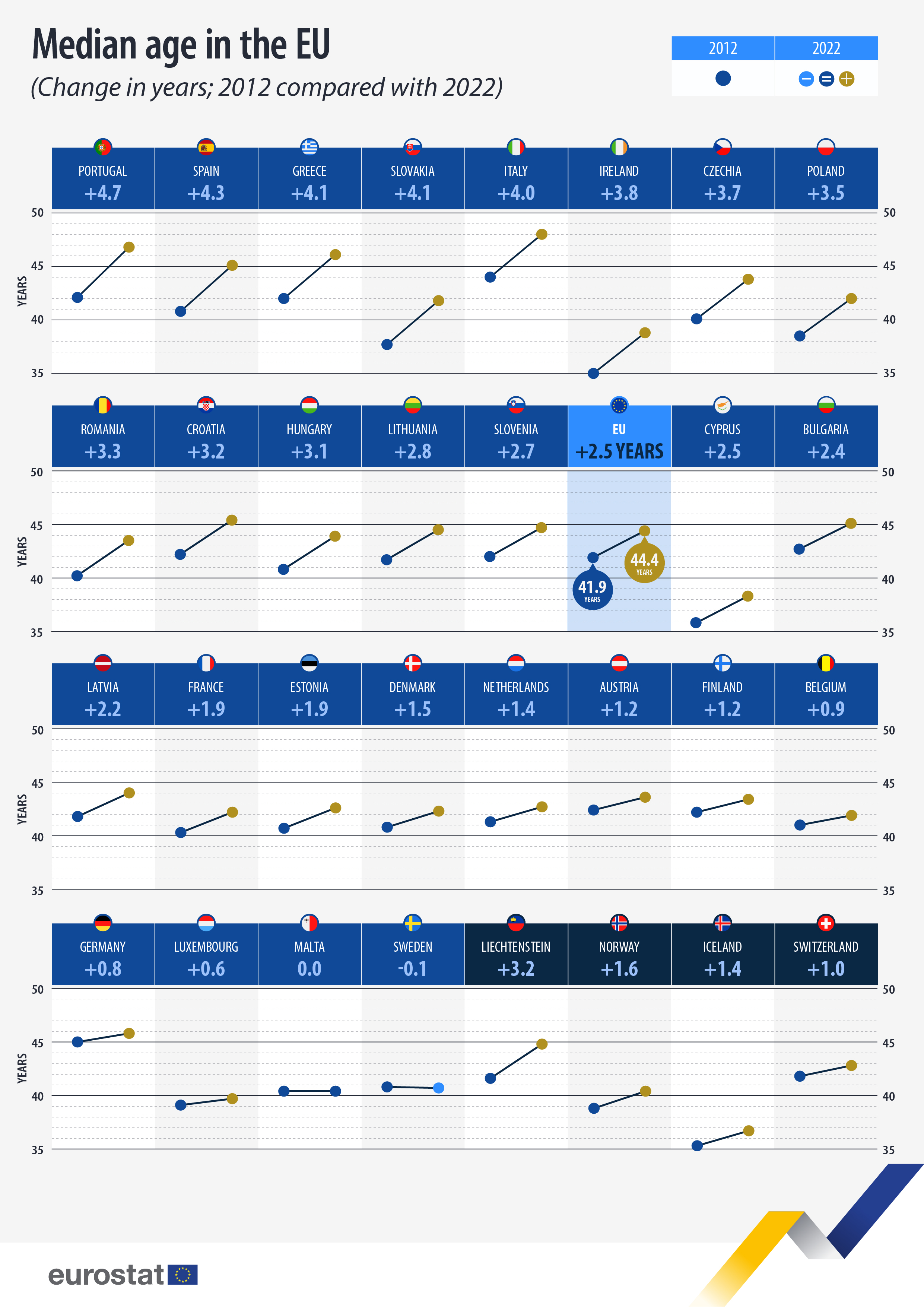 In 2022, the median age in EU countries ranged from 38.8 in Ireland and 39.7 in Luxembourg to 46.8 in Portugal, 46.1 in Greece, and 48.0 in Italy.
The median age in the EU has increased by 2.5 years since 2012, when it was 41.9 years. This is an average of .25 years annually. Iceland's median age has also increased since 2012, but less than it has in the EU: it's only gone up 1.4 years in the last ten years. The only EU countries that did not see an increase in their median age last year were Malta and Sweden. There was no change at all in Malta, where the median age remains 40.4 years. Sweden's median age went down, if only incrementally, from 40.8 years in 2012 to 40.7 years in 2022.
Europe facing a 'marked transition towards a much older population structure'
The recent Eurostat findings also measured what it calls the "old-age dependency ratio," that is, "the number of elderly people (aged 65 and over) compared to the number of people of working age (15-64)." In 2022, more than one fifth of the EU population (21.1%) was aged 65 and over. Demographic aging is "likely to be of major significance in the coming decades," reads the report. "Consistently low birth rates and higher life expectancy are transforming the shape of the EU's age pyramid; probably the most important change will be the marked transition towards a much older population structure."
As of 2022, the old-age dependency ratio in the EU increased to 33%, up 5.9 percentage points (pp) from 27.1%  in 2012. "This indicator varied among EU members," explains the report, "but remained above 20% in all of them." This is true in Iceland as well, where the old-age dependency ratio in 2022 was 22.5%, up from 18.9% in 2012.
Across the EU, there was an average increase of 3.1 pp in the share of the population aged 65 or over between 2012 and 2022. Considered alone, Iceland had less of an increase in this indicator, only going up 2.4 pp over ten years, but the country still experienced more of an increase in this indicator that a number of countries surveyed, including Latvia (2.3 pp), Switzerland (1.8 pp), Austria (1.6 pp), Sweden (1.5 pp), Germany (1.4 pp), and Luxembourg (.8 pp).
These findings are significant and are expected to dramatically impact daily life and economies throughout Europe in the future. As the Eurostat report explains, "As a result of demographic change, the proportion of people of working age in the EU is shrinking while the relative number of those retired is expanding. The share of older people in the total population is expected to increase significantly in the coming decades. This may, in turn, lead to an increased burden on those of working age to provide for the social expenditure required by the ageing population for a range of related services."
See Eurostat's full summary of its findings, in English, here.